AVTECH Tribrid 2MP 20X Speed Dome Camera. f4.7 ~ 94mm / F1.6 (Wide) ~ 3.5(Tele), auto focus
Prijzen alleen voor resellers
AVZ592 Tribrid 2MP 20X Speed Dome Camera
Voor professionele en veeleisende surveillance oplossingen biedt de AVZ592 Tribrid Speed Dome Camera een high performance full-HD IP camera met ondersteuning van meerdere protocollen voor IP, TVI, of AHD. Deze autotracking IR-camera biedt 20x optische zoom en is 360° draaibaar en meer dan 90° kantelbaar voor maximaal bereik en een optimaal blikveld in lichte en donkere omgevingen.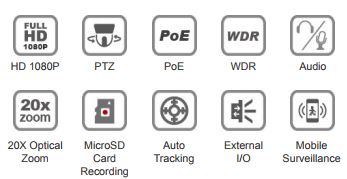 KENMERKEN
94mm zoom lens (f4.7) met 20x optische zoom en auto focus
PTZ (Pan-Tilt-Zoom) controle
Geschikt voor 360° continu rotatie met tilt beweging van -6° tot 90°
Auto Tracking om bewegende objecten te volgen
Extern alarm I/O device connectie
ONVIF ondersteuning standaard, voor eenvoudige systeem integratie
POE (Power-over-Ethernet) support; geen kostbare voedingskabels meer nodig.
MicroSD card ondersteuning (tot 64GB) voor video opslag
WDR voor verbeterde herkenbaarheid in overbelichte en onderbelichte situaties
Line in / out jacks voor audio transmissie
IR bereik tot 200 meter of meer bij gebruik van IR Turbo mode
IP66 voor outdoor toepassingen
Remote surveillance
De AVZ592 is te gebruiken met EagleEyes for Mobile Surveillance, de mobiele oplossing voor beheer op afstand van AVTECH voor iOS en Android.
TIP: Combineer de AVZ592 met de AVX102 USB Joystick voor maximale controle om het uiterste uit uw surveillance oplossing te halen.